It was horrible to find that your phone is getting to a low battery when you were outside, even more terrifying was that there is no charger around, at that time you would be very desire to have a high speed usb charger at hand. I was troubled by smart phone charging days ago.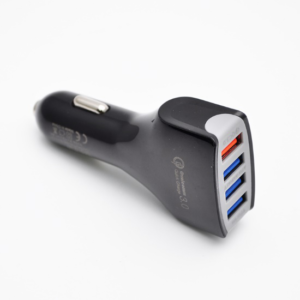 I made an appointment with my friend to go to her place the night before yesterday, but found that only 26% of the battery power of my phone was left after going out. It would take me 30 minutes to drive to my friend's place, and I needed to navigate the whole journey, because I was not familiar with the route. I searched the car once, but there was no rapid usb car charger and charging cable. I hope that at least the battery could maintain my navigation to my friend's side, and don't happen that the electricity would run out on the road. That evening was raining hard, 30 minutes route, due to the heavy rain, the cars on the road all run slowly, and happened to be on the time of peak traffic hour, so finally it took 50 minutes for getting to my friend's place. Along the way, I watched the battery of my phone drop gradually until it was under 20%. I was very anxious. Because it is dark and the heavy rain, most only by feeling to drive all the way, the speed was not fast, I'm worried that navigation won't last. Luckily, I managed to make it. Borrow a friend's charging device to charge my phone, so I can use it for navigation when I wanted to go back.
Therefore, it is necessary to have a high speed usb charger and a charging cable to match the phone in the car, just in case. So how do you choose the right car charger?
1. The car charge current is usually 1A and 2.1a, which is enough to charge the mobile phone.
2. Some of them have 1 USB port, some have 2, or 3, or 4 USB ports. I usually choose 2 USB ports. Of course, if you often use PAD, it is recommended to choose high-power car charger, usually with 3.4a, or 4.4a, 3 or 4 USB ports.
3. As for the style of car charger, it will be selected according to personal preference, and there is no certain selection principle.
4. However, it should be noted that the quality of many car chargers in the market is not guaranteed and the charging speed is very slow. Poor quality USB car charger can't keep up with the battery if you're using your navigation while charging, and some can even damage your devices. Brand car charger is the best choice when buying.