Many car enthusiasts, especially novice enthusiasts, have some puzzles such like: Is it necessary to add power amplifier to car stereo? Or do I need an amplifier for a car with only a subwoofer? We have picked one who posted some typical questions, and hope our answers may help you with the same doubts.
Question: SONY's subwoofer Xplōd 12″ SVC Subwoofer is only a single one with 1, 300 watt, of the 12″. The car's original stereo had a very good surround sound, but the bass was not strong enough. I wanted to add a subwoofer. Is the original one on the car enough to listen to the DJ? I'm afraid the car will lose its sound if it goes too fast. If I want high fidelity, do I need to install amplifier? Besides, does DIY work? My car is a new Camry.
Here some of our answers for your reference:
1. If you want to add car audio subwoofer box, it is best to buy power amplifier separately (generally speaking, active sound power is small, tt distorts when it's a big dynamic) the specific power should be based on your bass power, generally speaking, the power of amplifier is double the bass unit is more appropriate, can only be more than less. For example, if your bass is 100W and the amplifier is at least 150-200w, I mean the nominal power, not the peak power. Note that the impedance of the bass unit matches that of the amplifier, usually 4Ω or 8Ω. The other thing is to add a bass unit to add a divider. You will need car audio amplifier wiring kit if you make DIY.
2. If you do not add power audio amplifier that is absolutely unable to move, and DJ type music to bass is very sufficient, small power subwoofer you even will have no feeling, suggest to use 400*2 power amplifier, power cable (there will have car audio amplifier installation kit ) from the front to go again, the original car power cable is too thin, may damage your car.
3. The common equipment that refit acoustics has: horn, power amplifier, bass, the function of power amplifier is to amplify the weak signal that comes from sound source or pre-amplifier, push sound box to sound aloud. A good sound system has a lot to do with amplifiers.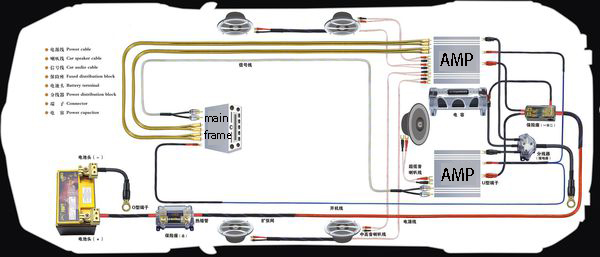 A good car audio amplifier wiring kit can make your DIY more smoothly and comfortable.