It is common to see people taking phones calls, checking messages, or navigating routes while driving, even the car has become a moving office. Some people have to spend a lot of time in the car, whether on the road or at rest, they're bound to use a lot of electronics, such as cell phones, pads, computers, GPS, etc, for safety and convenience, they will probably need an auto cigarette socket to use the electronics separately.
Is it safe to use an auto cigarette ligher plug socket? The answer is Yes, it is definitely safe and won't damage your electronics as long as you choose a product with a guaranteed quality, and use it correctly. Cigarette socket is generally 12V, according to the cigarette hole can have 1 hole, 2 hole, 3 hole and 4 hole, now also with USB port. There are quality assurance auto cigarette socket will have built-in fuse, when the voltage and current excessive, built-in fuse will automatically fuse, to protect your devices.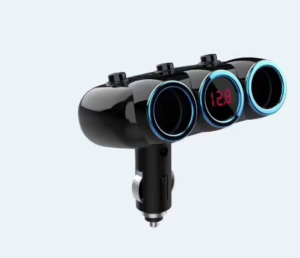 It is with USB adaptor, and each socket with on/off switch to control its own electricity. The cigarette plug can be 90° bendable with cap auto cigarette socket with USB adapters.
Here are some car electronics use for consumers reference:
1.When you are camping outside, but the weather is not so cool, at this time, you may need a little wind to cool yourself, yes, we have such a car fan, as long as the power is connected, the cool wind will slowly blow you, very comfortable. Connecting to an auto cigarette socket by using the car cigarette ligher plug socket.
2.When you need to power charge for mobile phone or PAD.
3.When you need ore USB adapters, and has digital screen to detect the voltage and current data, in order to more protect your devices.