We know that use phones while driving is to put yourself in danger, but it depends on the situation. People are used to put the phone in the place of gear shift knob, cup holder, put it on their lap, or grab the phone in hands, when they need to look up and down at the navigation from time to time, or free one hand to pick up the phone while driving, the danger is getting closer to them. It is better for them to have a suitable smart car phone holder in the car to change those bad situations, it can bring some convenience for the driver, so to reduce risks.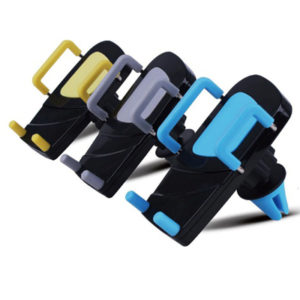 1. Navigating routes
With the car mount holder for smartphone, you can safely look at the navigation screen and easily reach the destination you want to go while driving.
2. Taking phones calls
When you use a car phone holder clip to hold the mobile phone, if there is a call to come in, you can immediately see whether to need to answer the call at once, if need immediate answer, then you can take security measures, such as answering docked at the side of the road, or if you are with a bluetooth headset, you can use the bluetooth headset is a more appropriate way of answering the phone, to avoid unnecessary phone because hurriedly answer and make yourself in danger.
3. Checking messages
With the smart car phone holder, you can see the instant messaging messages popping up on the screen and decide whether you should immediately find a place to park for emergencies without being distracted and driving dangerously just because you hear the notification ring.
4. Placing smartphones
With the mobile phone car mount holder, your mobile phone will have a very good place to put, you will not randomly find the mobile phone.
According to the different installation methods and functions, there are air vent car mount holder, suction mount car phone holder, wireless charging car phone holder, and so on, go to choose a suitable car mount holder for smartphone to ensure you having a safer and easier journey.