Nowadays, when you want to go to a place that you are not familiar, you must use your mobile phone to navigate when you go out, or you will get lost. To navigate with a mobile phone, we need to use a car mobile phone holder, and there are so many mobile phone holders that you can't choose from. From the installation mode, there are suction mount car phone holder, air vent car mount holder, and car CD mount holder. Suction mount car phone holder can be fixed on the windshield or dashboard table. I have used several mobile phone holders, all kinds of fixed ways. I will tell you what kind of mobile phone holder is preferable according to my own feeling and experience.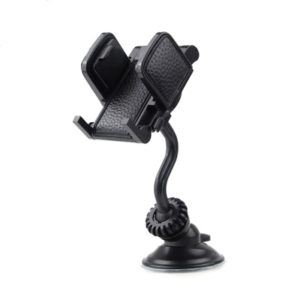 1. Firstly, according to the internal driving space and place. When you are in the driving position, which angle is convenient and comfortable to look at the phone screen? For my own experience, my car is Sharan, I feel it's preferable to see the place of above a little of dashboard, phone support, so I choose the suction mount car phone holder and fix on windshield. It can also be fixed on the instrument dashboard, because the Sharan car instrument dashboard is big enough, there is enough space can be used to fixed bracket as well. If the air vent car mount holder is fixed, the mobile phone screen will be partially blocked by the steering wheel, so you need to move your head or body slightly when you watch it. Because the air vent mouth of Sharan is on both sides of the DVD screen, it is obvious that the air vent mount holder fixed mode is not suitable.
2. Choose the type of mobile phone holder for car, which is also a certain attention, to integrate your mobile phone size and fixed position. The bracket arm of some bracket is telescopic type, a key can be used to extend bracket arm, put the mobile phone to go up next with the hand to close bracket arm, some bracket arm is to use spring to come telescopic, this wants to see individual use habit, which kind suits you more. Personally, I like to use buttons.
3. If your car mobile phone bracket needs to be installed on the dashboard, but some of the dashboard surface is not completely flat, then there needs to be an auxiliary plane small disk. First fix the small disk on the instrument dashboard table, and then fix the suction mount car phone holder on the small flat plane, here is a picture for your understanding.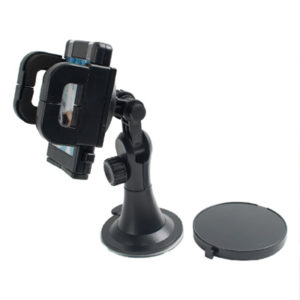 Generally speaking, what car phone holder is preferable, vent, dash or windshield, is depending on your car inside space and use habits.