What is tow rope?
A tow rope sometimes, we call it tow rope strap, it is a group of yarns, plies, fibers or strands that are twisted or braided together into a larger and stronger form. Tow rope is thicker and stronger than similarly constructed cord, string, and twine, that is often used for jobs such as pulling cars, tying up boats, or tying things together.
There are different tensile strength capacity of tow rope, ranging of 1.0T, 1.5T, 2.0T, 2.5T, 3.0T, 3.5T, 4.0T, etc.. and different length. It is produced by weaving or stringing, the material is polyester, such as PE, or polypropylene fiber, etc.. and divided into elastic tow rope or non-elastic tow rope.
Nylon tow ropes have tensile strength and so can be used for dragging and lifting heavy equipment. Use to tow or recover cars, ATVs, SUVs, ( 4×4 tow rope ), boats or light trucks. Abrasion and weather resistant polyester web strap will not rot or tear in extreme conditions. Reinforced looped ends for maximum strength and durability.
What is ratchet tow strap?
The ratchet tow strap is a little bit different with tow rope. They are fasteners used to hold down cargo or equipment during transport.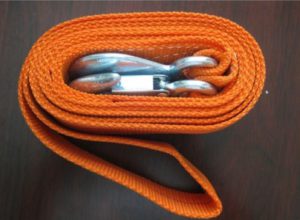 1. Where is it used?
Ratchet tow straps allows the tie down strap to attach to the area surrounding the cargo or equipment, loop over the cargo or equipment, and/or attach to the cargo or equipment. It usually also includes a method of tensioning the strap, such as a ratchet. So sometimes we also call it car carrier tie down straps, or car ratchet tie down. Car carrier tie down straps are essentially webbing that is outfitted with tie down ratchet.
2. Capacities
There are different breaking strength capacities to choose from, ranging from 800kgs to 10T. And different length is available as well.
3. Materials
The car ratchet tie down straps are usually produced by polyester, nylon and carbon steel.
4. Colors
There are different colors of the straps available, such as orange, blue, green, black, or customized color.
5. Packing
Different packing for car carrier tie down straps is available, such as round PVC zipper bag with handle and printing, color box, blister packing, color card sleeve, etc..